Business cannot exist without advertising whereas customers should learn about your goods and services. If you do not inform them about your offer, you will sell nothing. What is advertising? Advertising is one of the most popular methods of non-personal marketing communication. Many techniques of marketing can help small firms and big international corporations sell their products effectively. The problem of advertising has always been relevant. Companies spend millions on advertising because their want to increase their profit.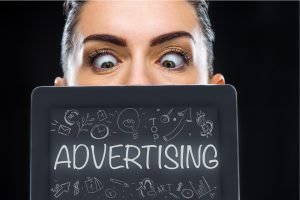 If you think that advertising is a brand new phenomenon, you are wrong. In ancient Egypt, people made ads on papyrus more than 5000 years ago. In simple words, every entrepreneur who produces and sells something should attract public attention to his goods and services. Nowadays, it's hard to imagine our world without advertising. Ads are everywhere. The Internet, television, radio, and press advertise numerous products to us. If you visit any website, you will see banners devoted to the production of the particular company. Without a doubt, the development of advertising will never finish. We will live with this phenomenon forever. Why? Because business and marketing are interconnected subjects that cannot exist without each other. When there is an entrepreneur, there is a marketer who advertises his production.
Mass media is the most powerful and useful method of advertising. I dare say that the origin of mass media is tightly connected with the development of this phenomenon. Although mass media serves to provide people with news and essential information, one its primary roles are to promote goods and services. Furthermore, the majority of TV channels, newspapers and magazines exist due to advertising. Big business pays money to inform the audience about their products on TV, the Internet, radio, and press. This method is very effective because people watch hundreds of ads every day and they remember brands and particular goods. When they are at a store, they recall the image of the advertised item, and they buy it.
Advertising applies numerous psychological techniques. If you see the same ad every day on TV, you believe that this product is useful and necessary. The majority of ads form a positive opinion about the special brand or product, and this positive image remains in your head. If there is a choice between the unknown product and a well-known brand, you will purchase the latter even if it is twice more expensive. In fact, you will hardly notice any difference between these two products. Your brains were only coded to appreciate a specific brand. This invisible influence on our subconscious is treated differently. Many experts say that intensive advertising is a positive thing for the balanced development of the business. Others claim that severe advertising is harmful whereas the majority of companies apply 'dirty' methods to sell their products. They say that modern people suffer from the excess of the unnecessary information related to marketing. People do not know the names of trees and insects, but they know the name of every brand.
Many companies apply a very simple trick to their ads. They involve babies and small puppies and kittens into the promotion of their products. When people see these cute characters, they automatically treat the promoted product positively.
Then, it 's hard to say that advertising makes business fair. On the contrary, every ad praises the particular product and severely criticizes the similar 'other' or 'common' products of other firms. The majority of the arguments, facts, and statistics are fake. Marketers imagine characteristics, numbers, and opinions to persuade target consumers in the quality of the advertised goods. As you see, advertising is based on cheating. Companies glorify their product and attack their rivals mercilessly. Thus, the entire competition builds on the success of the imagined story.
Everyone knows that knowledge is power; thereof, companies pay much money to advertise their goods and services to the widest audience. The main feature of advertising is its non-personal message. Marketers do not address the particular person. They treat the specific social groups or the entire society. They strive to be universal to make more people follow their ads.
Nevertheless, advertising is necessary for the development of the business. There are still many strictly informative ads that do not criticize opponents. Such companies focus on the strong sides of their products and leave their rivals alone. However, there is always a shade of competition in advertising because every entrepreneur wants to persuade his clients in the perfectness of his products.