Cause and effect essay writing is often a problem for students because the process requires well-developed critical thinking skills and abilities to analyze things in detail. The paper is supposed to possess a logical structure and contain interesting ideas and answer the fundamental questions suggested for research. To help students, complete high-quality essays Papers Mart offers well-organized professional cause and effect essay writing tips which will surely make the writing process easier and more productive.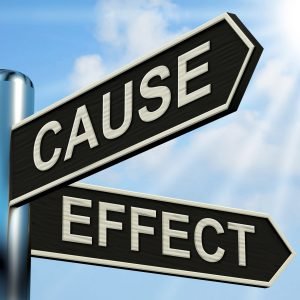 Introduce the Topic Effectively
First of all, choose the topic you are good at and think about what you already know about the problem. Remember that every essay should possess a strict structure which differs it from the rest of genres of writing. Every article should start with an exposition which presents the topic to the reader. Prepare a catchy thesis statement which explains the purpose and the problem of the essay and your research. A student will have to convince the reader that the topic is worth paying attention to and the problem is severe and significant. The exposition should apply for the reader and make him ready for the further plot development and analysis of the problem.
Present the Cause of the Problem
When you are through with the expository part, it is time to develop the problem in detail and illustrate the reasons for the problem. First of all explain the scene, place and time to show the location where the problem occurred. Sometimes one will have to investigate the cause or the reason of the problem because it is often not obvious. To find the reason one will need to think it over, read reliable literature and improve the knowledge. A well-presented cause will be a good start of your analysis, so try to organize this part well.
Present the Effect of the Problem
If you have written about the reason of the problem, you are expected to inform the reader about its impact or consequences. Evidently, this and the previous sections are interconnected, so bear in mind you have to brainstorm sound effect of the problem, event or case.
Make the Essay Logically
Writing the list of the reasons and consequences of the problem, try not to overload the reader with facts. Divide the essay into paragraphs and devote a section for every new purpose and new effect of the problem to make the narration logical and well-organized. Besides, you can choose between two ways of presentation of data. The first part is dedicated to all causes. The second one is to the consequences in the whole; the other variant is more convenient for readers – every reason is followed by an effect so that the user sees your point of view at once and will never confuse things. Finally, summarize the essay and proofread it to make sure there are no errors which can spoil its opinion.