If you want to write a book but you do not have enough time or skills for the research, you can hire a ghostwriter. This person is ready to fulfill this work for money. Many celebrities and politicians want to make autobiographies or other books that describe their personality from all sides. In fact, they are too busy to collect materials, analyze and edit them. The best way out is to ask a ghostwriter to prepare everything for you. Is it difficult to write a book using a ghostwriter? It is not.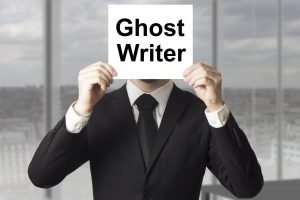 The following writing tips will teach you how to organize this process reasonably:
What Kind of Book Do You Want?
If you want to have your book written, you should at least think about its structure, style, and volume. Think about its topic and theme. What problems presented there? What characters and events will you introduce? In simple words, you should reflect on the project of your book. If you plan to prepare an autobiography, mention what periods of life are more considerable for the description. What should episodes from your life placed there? When you write a book on fiction or academic achievements, you should choose the articles that will find their place in your book. Finally, define the amount of work of your ghostwriter. Will he just collect materials and edit your text or prepare the entire book? Most often, ghostwriters are hired to do 'dirty work,' for example, grab the piles of materials and analyze them looking for something newsworthy.
Make the Ghostwriter Conduct Extensive Research.
It is vital to see the works of other authors who researched your topic before. Your book should be authentic and engrossing if you want someone to read it. Thus, ask your ghostwriter to learn about the articles and books that touch upon your problem. You will be able to follow them or invent something new to sound original.
Ask Your Ghostwriter to Collect Materials.
This job is very frustrating and energy consuming. It is better to devote it to your ghostwriter who will work on the book. Ask him to find everything related to your problem. When you have the entire pile of sources and citations, you will be able to consider what sources are noteworthy and what books and articles omitted. It is smart to collect only accessible and credible authors who have won their reputation in the academic world. Do not use dubious and out-of-date sources that can spoil the quality of your book.
Provide Your Ghostwriter with Your Idea of the Book.
Before you ask your helper to start writing, you ought to say what you expect to receive. Thus, find time to prepare a summary of your book regarding the found materials and the outline. Write what you want to see there. Choose the right order of the points that placed in the text. Finally, you ought to show the examples of your written documents that will help your ghostwriter imitate your style. This aspect is paramount whereas your readers expect to read YOUR book. Therefore, prepare a short sketch and provide the ghostwriter with the detailed and logical plan.
Be Ready to Make Corrections.
Writing a book is hard. In fact, it is far more difficult to write a book for someone else. You expect that your ghostwriter can read your thoughts and see the problems in the way you do. Unfortunately, he does not. Everyone is a unique personality, and our opinion about everything is completely different. For instance, someone treats flowers seriously and writes about them passionately. Others will never think in this way. They believe that a flower is a simple unworthy colorful natural object. He will never write about it seriously. Thus, be ready to read the first draft of your book critically. You will see numerous points that you will not like. Do not worry, it is natural. You ought to look at the errors and troublesome paragraphs and explain your idea in detail. The ghostwriter will focus on these items, and the further drafts will be much better. If you write the book yourself and need your ghostwriter exclusively for research and editing, devote proofreading to him. If you write a text, you will not be able to read it critically. A ghostwriter will find errors at once. Therefore, if you wish to proofread your book successfully, hire a professional editor.